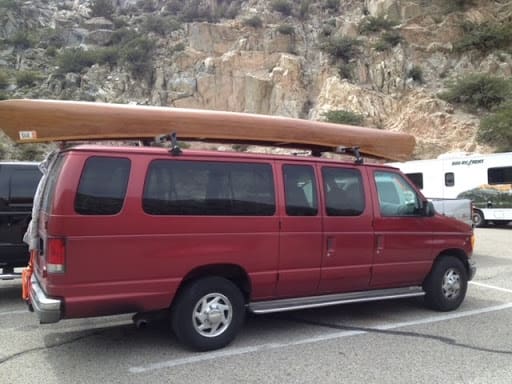 The following story is from long-time Brigade Leader, David Dixon. HIs story, "The Big Red Van" is a great reminder that God wants everything that we have to be for Him and His service. Because of the faithfulness of David and his wife, God used their work-van in great and mighty ways. This is the true spirit of Christian Service and Christian Service Brigade. We come with what the Lord has given us and use those tools in His service to do great things for the Kingdom of God. -David Taylor, Jr. Brigade Leader E-Magazine Editor
In 1999, my wife and I were looking for a vehicle that would allow us to continue to minister to the young people in our community, and help in my part-time cabinet making business.  We were considering a truck, but realized that it would restrict how many Brigadiers (and Pioneer Girls) that we could get out to church.
The Lord led us to buy a 1998 15-passenger E350 Ford van that already had 80,000 miles on the odometer (it was an airport transport van), not exactly low mileage for a one-year-old vehicle. So we purchased the van and then gave it to the Lord, asking Him to use it for His honor and glory. 
What He did was way beyond our imagination!
Many Brigadiers have received counselling while riding in the van and several bowed their heads and received Christ as Savior while coming home from a Brigade meeting.  The van also had great use in transporting Brigadiers and their gear on campouts, trips to Mexico to help in building a house for a missionary family, Vacation Bible School, Sunday School, summer camp and numerous other outings and ministry uses.
Several other people at our church have also used the van in His service for various ministry functions.  As of the writing of this article, the van has over 310,000 miles on the odometer!
Moses was asked by God (Exodus 4:2) "What is that in your hand?"  And he (Moses) said, "A rod." It then became the rod of God.  Like Moses' rod, the Lord has used the 'Big Red Van' in so many wonderful ways.
The Lord wants to use anything and everything we have, including ourselves, for His glory. We simply need to give ourselves and what we have to the Lord (Romans 12:1, 1 Cor. 6:20).