Super Stockader: What Does It Take?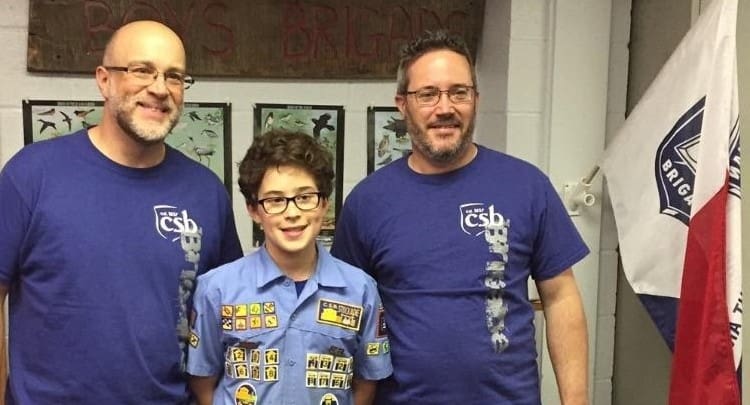 Editors Note: The following article is part story, part interview. We have tried to leave it in its original format as much as possible.
Abe was recognized at the season's last meeting for completing his eighth Sentinel Station. This also meant he had finished all 8 Blockhouses and 8 Stations during his time as a Stockader.. Abe had been working on this great accomplishment ever since he joined Stockade a year early as a second-grader. He wasn't alone on this journey through Builder and Sentinel Trails. His father, Meade, brought him to Stockade and stayed involved with Abe's achievement throughout these years and other men have been Rangers along the way too!
Abe's Dad had been through the Stockade earlier with another son, older by seven years, so he knew what it meant to participate over the long term. What drew Meade to the Stockade at Grace Church in Lancaster PA, since this was not the church where his family were members?
"I'd been in Christian Service Brigade as a Stockade boy and in Battalion in my youth. I'm highly grateful to have had this experience and wanted that for my sons. When my first son got to be this age we looked for CSB and found this program and were welcomed."
What's kept Meade coming for so many years?
"My desire to be engaged in my sons' lives, mentoring and growing as a mentor".
The group has done special events, taken annual trips to sites in Washington DC and they have gone on a couple camping trips every year.
"We could do Outpost Adventures skills like building a fire for boiling water and camp cooking. Some of the activities we did as a group counted as service for Abe's achievement."
So Abe, what can you say to help other boys in their motivation to achieve? How did you keep on track to complete 8 Blockhouses and 8 Stations over time? Did you do something every week?
"I guess I made it a personal goal. I learned the Trail Signs verses by reading them over and repeating line by line, not looking. I read the verses over again at night. I said the Trail Signs together to my Mom or Dad. My Dad was my mentor for the things I did, and I talked about them with my Ranger at the end of a Blockhouse or Station."
What are some activities you remember doing in Sentinel Trails?
"Reading through the book of Mark, (through the 8 Stations) and writing thoughts to answer questions."
Did you have any favorite Outpost Adventures?
"Space, about the stars and Solar System. And Dogs, where we had bloodhounds and police dogs brought to our Stockade."
Chief Ranger Larry and Abe's father, Meade were definitely essential as guides in his progress.
"We just finished the last of his required Outpost Adventures as a group. Some boys need more prompting than others and some input. In Abe's case he was motivated to do these achievements and finished well."