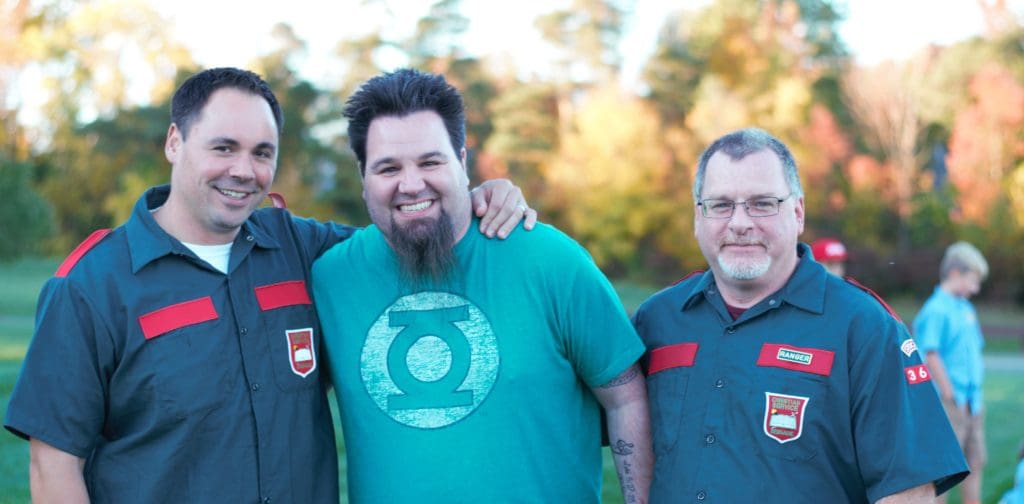 I was blessed with great mentors and coaches as a teen. Like a spring fed river, upon the moving out reach of one source of wisdom, God would emplace another. At church and Battalion, I was constantly led and discipled by a plethora of transformational leaders, men motivated purely to see me and my peers grow. Moreover, I was led by older teens who were likewise selfless, exciting, Jesus-loving disciples. I have only recently fully appreciated how impacted I was by TJ Mitchell, then 17, carrying my pack across the rugged Tuscarora Trail when the mountains and bitter temperatures had exhausted my stick-thin 11-year-old body. While I loved these men, like a fine wine I'm still growing in appreciation for the Father's gifts to me through their example, sacrifice, and love.
I encountered my first truly transactional leader as an undergraduate rower. It is not my place to judge another man's heart, but Coach seemed to show no evident interest my growth or welfare. My teammates and I only observed that if you could not win championships for him, he had no interest in you, the archetypical transactional leader. One regatta, our four junior varsity boats handily beat a perennial rival, but the first varsity was beaten soundly by the same margin the other four had won. Winning the team trophy did not placate him; his ego hinged on the success or failure of his lead boat. His fury was plain, and the entire team deflated like a pierced tire as we loaded our equipment, and boarded the bus for a sullen 3-hour ride home. I had a particularly caustic relationship with him. Often I would meet his disrespect with my own, extracting all love and joy out of the sport of rowing.
After commissioning as a Marine infantry officer, my personal leadership studies led me to Dan Goleman's Primal Leadership, an excellent book, whose secular findings could have been lifted from Scripture. Studying Goleman's six leadership styles, I quickly tagged Coach as a "Pacesetter", those characterized by high competence, high expectations and high intensity, and little patience for others who don't seem willing or able to sustain their pace. Effective over the short haul, Goleman warns of the spirit-crushing effect relentless pacesetters can have on those they lead. "Yep, that's Coach," I thought. However, the sword cut both ways, and I realized, "Pacesetting is likewise my default style." Furthermore, I had used this leadership style extensively as a leader within CSB, labeling myself as the leader "who got things done."
I could not dodge the question, "Is that what it feels like to be led by me?"
Providentially, I have recently realized that through those four years at college, I was being coached through my reading concerning another Coach, who understood and embraced transformational leadership. Jeffery Marx' Season of Life describes the work of Coach/Pastor Joe Ehrmann among high school football players in Baltimore. Here was a coach for whom growth of those he leads is all that matters. He sought a team of teens who would be "Men Built for Others." As I led teammates through Season of Life, I was transfixed by a vision for leadership that described the kind of coach under which I'd largely grown as a teen in CSB. The last time I led the leadership program at our CSB camp, I purposed, together with my youngest brother, to intentionally recreate a team atmosphere such as he and I had read about in Season of Life.
Additionally, Coach Ehrmann's InSideOut Coaching lays out a vision for the power of coaches in America to change the culture of sports and thereby America. Parts of the book are raw, as Joe describes the childhood of transactional leaders that sculpted him into the fearsome, angry All-Pro defensive back. Transformed by the gospel (described in Season of Life), Ehrmann campaigns now for transformational coaches. He asks all coaches four questions, whether Little League, High School, College, or Pro:
Why do you coach?
Why do you coach the way you coach?
How does it feel to be coached by you?
How do you define success as a coach?
And, he confronts and repents of his lapses into transactional coaching and leading.
Upon reflection, Coach Ehrmann compelled me to confront my past. "Why did I want to lead at CSB camp?" "Why did I lead the way I did?" "How did it feel to be led by me?" "What did I think success would be?" The blunt reality is that of the three times I led a CSB camp program, the first two were for myself. I enjoyed the esteem that comes with leadership. At the time I believed I was also changing young men for the better, but frankly I did not know how to transform a young man into a "Man Built for Others." With a couple of guys, I was even the same kind of leader that I would later disdain and whose coaching would crush my spirits. I now know what it felt like for some to have been led by me. "What a wretched man I am! Who will rescue me from this body that is subject to death? Thanks be to God, who delivers me through Jesus Christ our Lord!" (Rom 7:24-25, NIV) I fear I have left too many young men either feeling unloved or desiring to imitate my poor leadership.
However, like a renewed ruined city (Isaiah 61:4), Coach Ehrmann helped me ensure that the third time was different. My mission was the trainees, not my personal glorification. Additionally, I had the privilege of helping my little brother learn to lead for others without the grief that I'd caused others through my transactional leadership.
Here's the issue: being a transformation leader is not natural, it must be learned. We have not all consistently been "Men Built for Others." Therefore, critically ask yourself:
Why do you lead?
Why do you lead the way you lead?
How does it feel to be led by you?
How do you define success as a CSB leader?
If you're the beneficiary of any of your answers, if you lead because of what you get from the experience, whether pride, reputation or power, you too are transactional.
Here's what I'd like you to do. With your adult leaders, read and discuss Marx' Season of Life, and then Ehrmann's InSideOut Coaching. These are secular books, but the fragrance of the gospel pours from both. Then, pray for me as I love my Marines; I'll pray for you as you love your young men.
References:
Joe Ehrmann, InSideOut Coaching: How Sports Can Transform Lives, 2011.
Jeffrey Marx, Season of Life: A Football Star, A Boy, A journey to Manhood, 2004.
Daniel Goleman, Richard Boyatzis, and Annie McKee, Primal Leadership: Unleashing the Power of Emotional Intelligence, 2016.
Brent Niewoehner is a graduate of the CSB programs at Evangelical Presbyterian Church of Annapolis, MD, and served on junior and senior staff at Hemlock Wilderness Brigade Camp, in West Virginia. He currently serves as an infantry platoon commander in the United States Marine Corps.