Footfalls on the Path Behind Me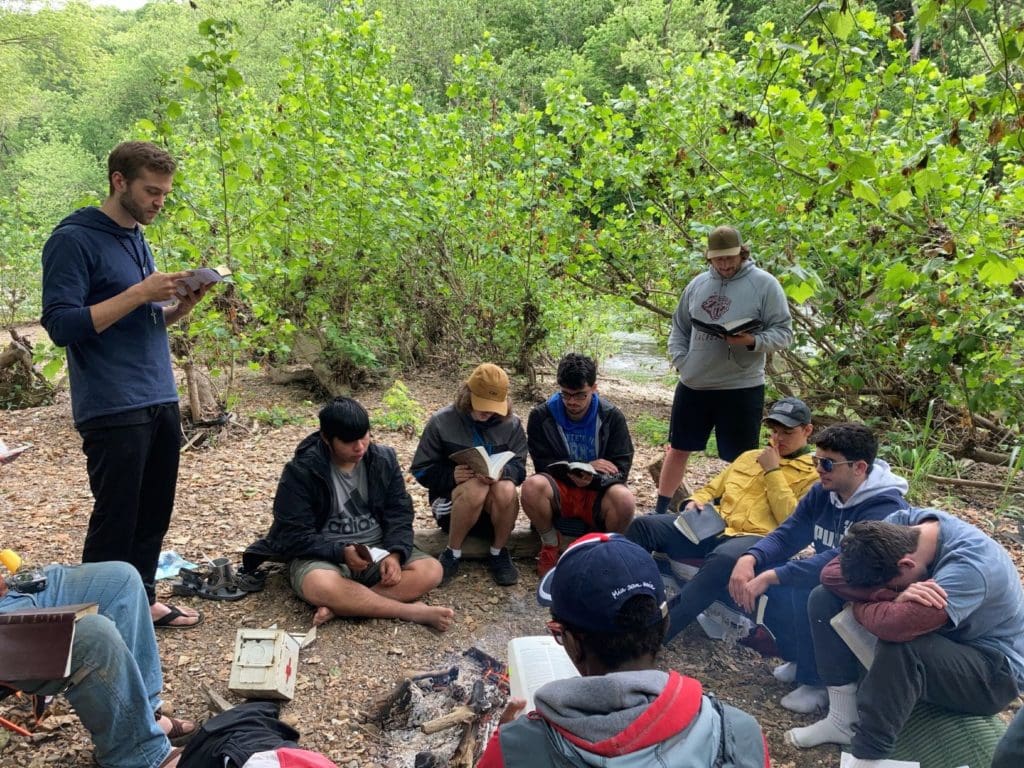 From being mentored in Battalion to mentoring in Battalion
It wasn't my plan to return. In 2015, at our Battalion's end-of-the-year banquet, some of my Captain's parting words to me as outgoing Sergeant were, "Do not forget us." Growing up, Tuesday was the high point of the week; those were the nights my father would take my brother and me to Tree Climbers and Stockade. In time, after a personal hiatus of two years, I transitioned into Battalion on Thursdays. I would soon become Lance Corporal, then Corporal, before becoming Sergeant – achieving through Third Star along the way and starting my Herald of Christ Internship.
Few things contributed to my leadership development and spiritual walk more than my experiences in CSB – not the least of which were my mentors who worked with me through the achievement program, allowing the person of Christ to radiate through them. I would graduate, however, and move out of state to pursue continuing education and independent life.
Evidently, the Lord wasn't finished with my involvement in Battalion. After a series of events and changes, I moved back and became active in the Battalion ministry, finished my Herald of Christ Internship, became a Lieutenant, and was hired by the church as an Assistant Youth Director.

The transition from Brigadier to Sr. Leader has been a rewarding one. While the continued adventures and fraternity with the fellow Lieutenants and broader Battalion have been rewarding in their own right, many will tell you that there is no greater satisfaction than doing the Lord's work wherever He has uniquely situated you. There are many facets of the Battalion ministry where one can channel the unique enabling God has given them, but for me, the most meaningful is the realm of relational mentoring and discipleship.
As a young person in my mid-twenties, I lack some of the life experiences shared by my fellow Lieutenants. But in God's providential orchestration, that creates a unique position of being old enough to be distinct from the brigadiers, and thus, a source of some wisdom, but young enough to be relatable and easily approachable. As someone who has semi-recently come out of that stage of life, imparting lessons of life and faith takes on a personal dimension as I recognize familiar growing pains – creating a mentoring dynamic perhaps most analogous to that of an older brother. And, having been a Noncom and going through the Achievement curriculum myself, I can offer my experiences and insights in an effort to help our young men succeed in their spiritual and leadership development.
Through our regional Brigade camp, I have a lot of experience hiking the Great North Mountain region on the Virginia-West Virginia border. Aside from the camaraderie I've experienced on those trails, the area has long been a place of spiritual solace and where I have had some of my most profound prayers and reflections – if you've seen the natural beauty and rustic majesty that exists along those trails, you would understand why. On one occasion, I was hiking the Capon trail. It was clear that no one had been on the trail for a while. The whole path was overgrown with thorns and thistles – so much so that as I was navigating (sometimes bulldozing) through the thorns, it occasionally became difficult to tell if I was even still on the trail. It was a wild, unworn, and seldom traversed path.

Following Christ is often like hiking that trail. In many ways, it's beset with challenges, it's easy to go astray, it can be hard to press on, and sometimes, it can feel like a profoundly solitary endeavor. But then you hear a gentle footfall behind you. Turning around, you see someone younger than you walking that same wild and seldom-used trail, aided by the path you helped cut. You may even see someone behind them and perhaps yet another behind them. Suddenly the path feels less lonely and your efforts not in vain. This is the deep joy of Christian discipleship; this is what Battalion mentoring is supposed to be all about – older men helping younger men navigate the path of the cross.
Each of us reading this article has a different story of how we became a Brigade leader. As you've likely realized at this point, ministry has its challenges – that's the nature of being a fallen person working with fallen people in a fallen world – and we can often become discouraged and doubt whether we have what it takes to do the work the Lord has set before us. But let us not forget the truth that because it is God who arranges and has placed us in our present circumstances (in this case, leadership in Brigade), it is God who, by His word and by His grace, equips us for every good work (2 Timothy 3:16-17, Hebrews 13:20-21).
Jacob Brunk is Herald of Christ # 753 (2017) and continues as a lieutenant on the Leadership Team of Battalion 7117, Severna Park, Evangelical Presbyterian Church, Pasadena, MD