Getting Boys into the Word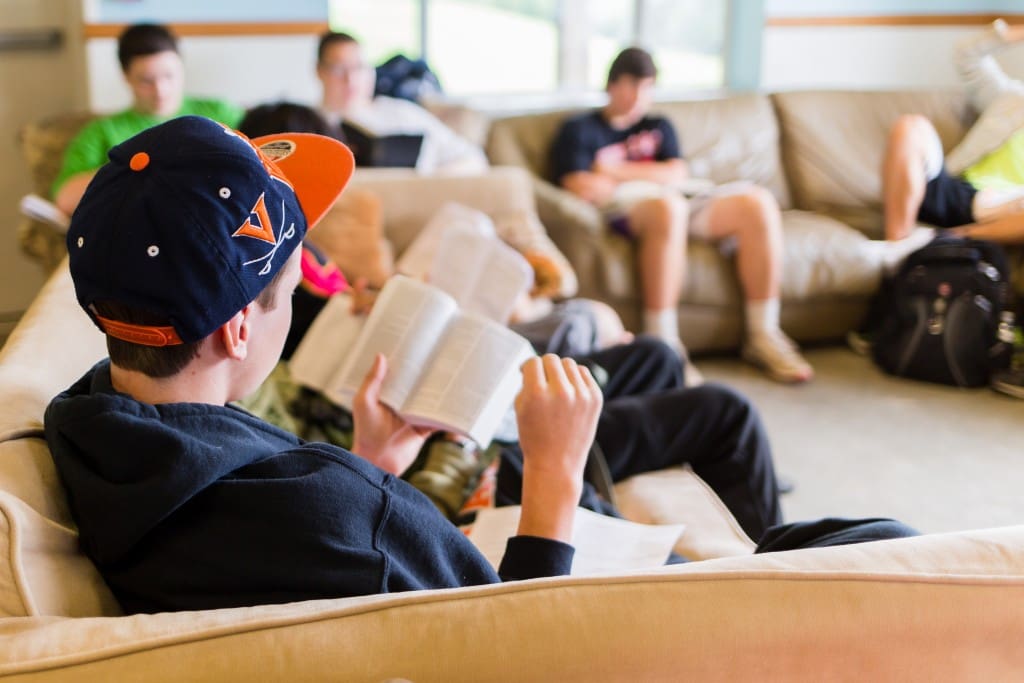 How can you encourage boys to love the Word of God? There are several things to keep in mind.
Boys love to hear about the successes and struggles in our life. It helps them understand that we are real people too. So first, concentrate on your own Bible study habits so that you can have a growing experience to share with them. Your example is the greatest influence. The time you spend in careful study of Bible passages will equip you to apply God's Word to problems and questions that boys bring you. They will soon know if you are a man of the Word.
Second, recognize that any Bible exploration with boys is made more potent when we start with their needs and concerns. A young boy in Battalion, Stockade, Sunday School class, or anywhere else is rarely motivated by an academic approach to the Bible. In fact, if his understanding of the Bible is primarily academic that is a problem. God's Word must penetrate to a boy's heart before it will have a life changing effect. Boys are often interested in knowing what God says about problems and issues that he faces, and as you work together to bring The Gospel and biblical truth to bear in these real world issues The Bible begins to come alive. Meeting God and coming to understand and to follow Him is the greatest adventure for man, and the man who opens up the Word in such a way that this adventure is made real to the boy will always have a receptive audience with boys.
Third, capitalize on the spontaneous opportunities to explore the Bible with boys. The most productive times with the Bible are natural occasions when you can fit Scripture into your conversations. Some examples might be: when a boy asks you a question about a moral issue or advice for an important decision, when you are sitting around the campfire with a group of boys after a long day's hike and have many exciting experiences to talk about, or when you are counseling a boy on his achievement and you are discussing one of the verses he has memorized. When these opportunities arise, it's easy to say, "Let's take a look at what the Bible says about this" or "Let's find out what God says in the Bible." Boys can learn when the right methods are used, but they will never learn as eagerly and willingly as they will when they have initiated a situation into which you can introduce the Scriptures.
Working with individual boys provides additional opportunities. The achievement interview is a natural place. You will want to see that a boy understands the story or study and has gotten the basic message it has for him. Ask him some questions that will encourage him to share what he has learned. The two of you could spend some time right there going back and studying together areas that he may have missed in his own study. The time when a boy comes to you with a problem may be a time for pointing him to Scripture and letting him see what God has to say that might bear on his situation. The informality of outings frequently provides great opportunities to work with individuals. Don't let such times slip through your fingers. You might have occasion to share your devotional time with a boy, particularly if the two of you are alone on an outing-like a trip with your son. This can be a time to encourage a boy in his own personal quiet time, as well.